"Any number of pornographic filmmakers, gay and straight, have tried to portray something like it – now for homosexuality, now for heterosexuality – and failed because what they were trying to show was wild, abandoned, beyond the edge of control, whereas the actuality of such a situation, with thirty-five, fifty, a hundred all-but-strangers is hugely ordered, highly social, attentive, silent, and grounded in a certain care, if not community" […] "It was engrossing; it was exhausting; it was reassuring; and it was very human." –Samuel R. Delany, The Motion of Light in Water, p. 202.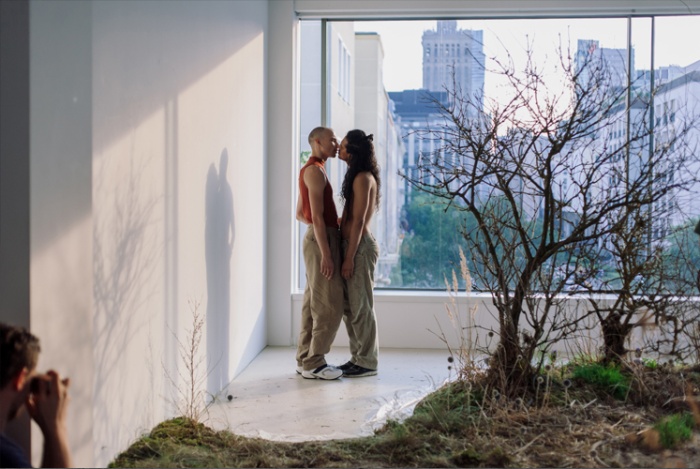 Alex Baczynski-Jenkins, Nim zakwitnie tysiąc róż (z Warszawą w tle), 2018. Dokumentacja performansu. Fundacja Galerii Foksal. Dzięki uprzejmości artysty oraz Fundacji Galerii Foksal. Zdjęcie: Karolina Zajączkowska.
Delany is talking about sex – anonymous, consensual, communal, no-strings-attached sex. The kind that now mostly only happens in the dark rooms of seedy clubs, in the private homes of Grindr users, in the ticketed gay saunas of big cities, but that was originally bound to the streets, to the publicness of low-lit parks, the risky games of tearoom trade, the empty and vast spaces of derelict piers. His description is an account that helps us visualize a very specific picture of the East Village in New York between 1960 and 1965, one that also helps me define what I mean, in this instance, by "queer hospitality" – a set of practices that place the act of "hosting" as an embedded part of queer communities and phenomenologies. Delany writes from his own experience, and what we know today of this underground practice in that particular place and time is in great part indebted to his memoir, The Motion of Light in Water, as well as his book Times Square Red, Times Square Blue (1999), a first-hand narrative of sexual exploits in Times Square's pornographic movie theaters between the '60s and '80s. That I refer to this practice of sex as "underground" is less to do with its invisibility – for fags were recognized, chased, and policed for their homosexual sex, not least for their doing it in public – and more to do with the fact that at its very essence lies an impetus to not conform to normative standards applied to pleasure-seeking and sexual encounters. It is also underground in that it was – is – mostly practiced by a very specific group of people; primarily by gay men.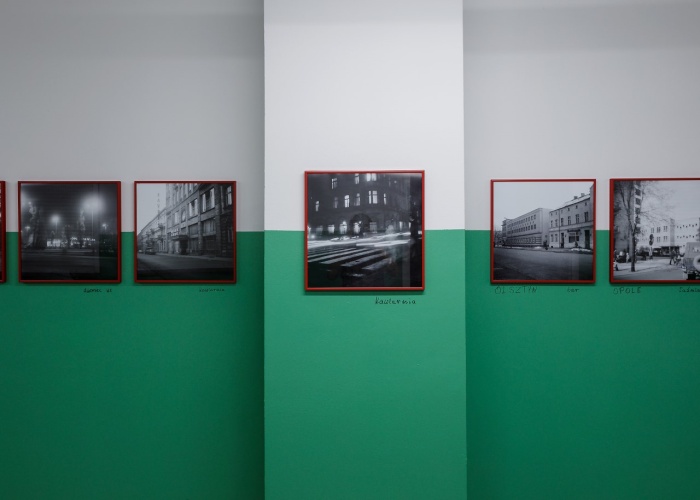 Widok wystawy Ryszarda Kisiela "Kruzing", 2018, Gdańska Galeria Miejska. Kuratorzy: Karol Radziszewski, Wojciech Szymański. Zdjęcie: Michał Szymończyk.
That is also the very reason why the practice of cruising, a term used to describe the umbrella of aforementioned activities, lacks a comprehensive historical record, or archive, comprising a multiplicity of voices and experiences by those who cruised. Throughout the '80s and early '90s gay men died of AIDS in the hundreds of thousands, and with them took the stories, memories, and ephemera of a time that, though not long ago, has already inevitably been partly lost and/or erased. The lives of those who survived were also changed forever – not only did they lose friends and lovers, but their very being as homosexual men was, perhaps for the first time on an almost global scale, publicly and thoroughly demonized. Even if gay sex was no longer a "crime" in most Western countries (at least not one with legal consequences), the policies and politics that became prevalent at that time placed it as a deviant practice, and AIDS as the result of a moral reckoning. The making of a history of gay sex in public spaces by personal recollection – accounts that would, besides the ones from current cruisers, trace its origins, rituals, and sites within a modern timeline – is therefore a task that relies on a limited number of first-hand accounts. What we have been left with is a history of gaps. That is to say, we have been left with a history of holes; ones whose stretchy and infinite insides contain tools for queer world-making. In the two brief notes below, I want to suggest that finding and ripping* open these holes, ones that within them reveal modes of life and behavior that were Other to their time, and which are here orientated towards the practices and affective/relational modalities of cruising, unleashes the radical potential that can be found in queer hospitality. Much like Jose Esteban Muñoz who envisions queerness "as an ideality that can be distilled from the past and used to imagine a future"1, our entanglements with these holes open up political imaginaries that can affect us in our present time.
How do we go on about ripping open holes?
Cruising the Seventies (Crusev), an ongoing Europe-wide research project spearheaded by Dr. Glyn Davis at the University of Edinburgh in Scotland, and shared with universities in Germany, Spain, and Poland,2 might serve as a good example for us. Focusing on the '70s as a time of initial queer excess for LGBTQ communities – a decade that immediately followed the initial gay liberation right movements of the '60s, and that preceded the shattering physical and moral effects of HIV/AIDS in the '80s – the project seeks to research, unearth, gather, and study scenes from life at a time of prolific community activity and increased visibility. Many of the research projects by the involved scholars are focused on archives, places, and practices of gathering, as well as on works of art, film, and literature that, much like Delany was recording in the US of the '60s, depict modes of doing and being that speak of a queer futurity. In returning to these histories and tapping into scenes of the past – not just any past, but one of radical production, experience, and behavior – Crusev seeks to "reframe, and ultimately transform, contemporary cultural, social and political knowledge about queer history and queer life in Europe in the present." This is aligned with the notion that holes, in their infinite holiness, can suck us into the past to then return us to the present with what Muñoz describes as "a backward glance that enacts a future vision." Crucially for Muñoz we are not just building the present, but constantly jostling between reality and utopia in the queer project of building the future.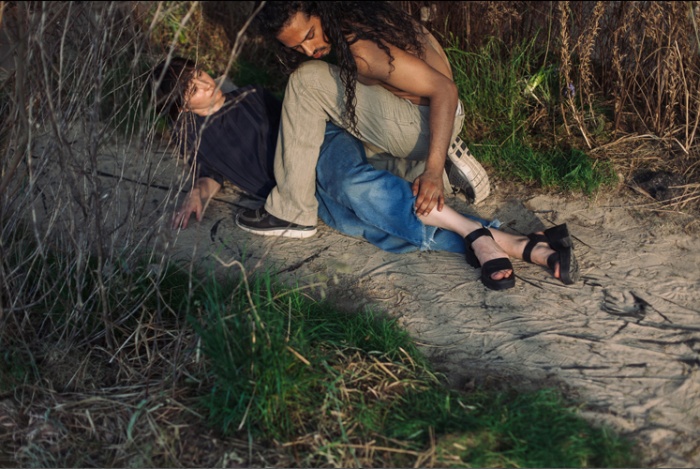 Alex Baczynski-Jenkins, Nim zakwitnie tysiąc róż (z Warszawą w tle), 2018. Dokumentacja performansu, Fundacja Galerii Foksal, Warszawa. Dzięki uprzejmości artysty i Fundacji Galerii Foksal. Zdjęcie: Karolina Zajączkowska.
Warsaw-based artist Karol Radziszewski is a member of the group of participants in the Polish side of Crusev. Through his project Queer Archives Institute, a non-profit organization that preceded Crusev, founded in 2015, Radziszewski researches, collects, digitizes, presents, exhibits, and analyzes queer archives, especially from Central and Eastern Europe. Making up a large part of this archive is the work of Ryszard Kisiel, a pioneering Polish gay man who in the 1980s, and totally by his own accord, initiated several ventures including the production of homemade homoerotic photography, the setting up of Filo, the first East-Central European gay zine, as well as the researching and making of a series of guides for cruising in Poland. Through various efforts, both in the making of his own artworks and in organizing and curating exhibitions of Kisiel's archive material,3 Radziszewski plays host to a history of radical queer life in Poland that not only had gone unnoticed, but that had actively been pushed aside, forgotten, erased. Radziszewski's unearthing – which beyond being an act of rediscovery becomes significant in the generative gestures of making something/someone visible, of creating the space and time for engagement – rewrites the narrative of LGBTQ activity in the country, fighting head-on the ideological agendas that wish to represent Poland as a nation of sameness, order, patriarchy, and heteronormativity. Kisiel's multi-faceted practice, which tackled issues including HIV/AIDS, guides for cruising spots in the context of increased ideological and political efforts for criminalization, moral and legal, the creation of a network for the sharing of common struggles, or the making of queer aesthetics and modes of being through cross-dressing and photography, makes up a hole that creates a hospitable situation for queer people today – tracing a lineage of resistance and a heritage of activism to be invoked in the present and used towards building the future of a queer Poland.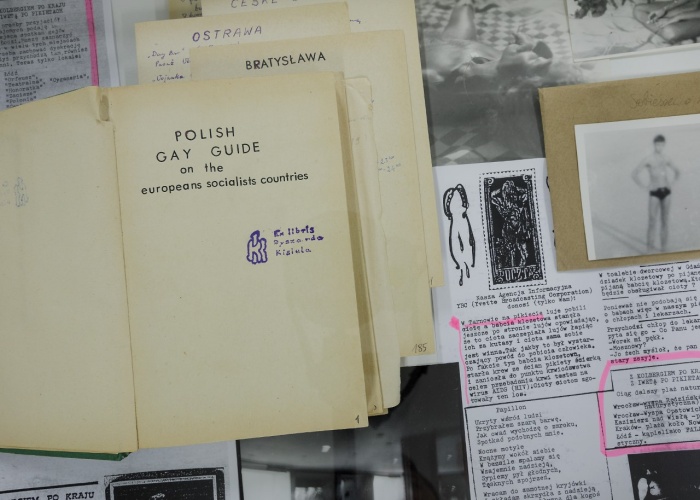 Widok wystawy Ryszarda Kisiela "Kruzing", 2018, Gdańska Galeria Miejska. Kuratorzy: Karol Radziszewski, Wojciech Szymański. Zdjęcie: Michał Szymończyk.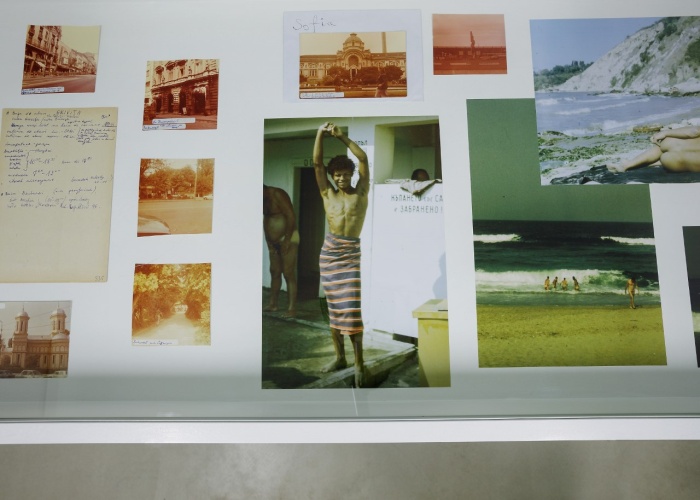 Widok wystawy Ryszarda Kisiela "Kruzing", 2018, Gdańska Galeria Miejska. Kuratorzy: Karol Radziszewski, Wojciech Szymański. Zdjęcie: Michał Szymończyk.
Channeling Jose Esteban Muñoz's quoted material earlier in this essay, A backward glance, suspended, is the name – though one that is not official, nor often shared – of a movement in Alex Baczynski-Jenkins' Until a thousand roses bloom (with Warsaw in the background), a choreographic exhibition that took place at Foksal Gallery Foundation in Warsaw in the summer of 2018 and that saw eight performers exchange moments of desire in an environment constructed to evoke a cruising ground.4 In this work, Baczysnki-Jenkins taps into the relational, affective, and aesthetic qualities, both speculative and lived, of the experience of bodies exchanging pleasure in public – which is also to say, in the context of this configuration within a gallery, of bodies exchanging pleasure for the gaze of an Other. In doing so, the artist arrives, by way of an artwork, at the production of a type of knowledge that sits adjacent to Delany's autobiographical accounts of sex on the streets. If Delany's writing is as much what delineates the hole's shape as what fills its insides, Baczynski-Jenkins' call to look into it "in suspension" – which choreographically translates into an act of setting an intentional gaze ad infinitum, held by performers towards the outside through the gallery windows, by performers with audiences, as well as between the performers themselves – presents the hole as a sort of channel, as a tunnel through which to load an erotic charge. In these moments, the performers seem to tap into the residue of their own experiences with lovers and strangers to create a situation of longing, a quality that materializes in their eroticized touch. From longing, the performers move into the pursuit of physical pleasure. Every glance and move is a step towards the arrival of desire: the performers reach and grasp towards each other's legs and arms; they run and chase; they jump on each other; they jostle; they laugh; they play with the other's hair; they embrace in couples and throuples and they undress themselves and each other, clothes scattered around the room. However near, desire is never fully captured, never consummated – it is suspended, and in constant negotiation between flesh and fantasy, eroticism, and foreplay. The gallery therefore becomes a ground of cruising desire – it conjures itself as such in any person watching, asking them to pull from their own subjective experiences to arrive at memories and affections of desiring.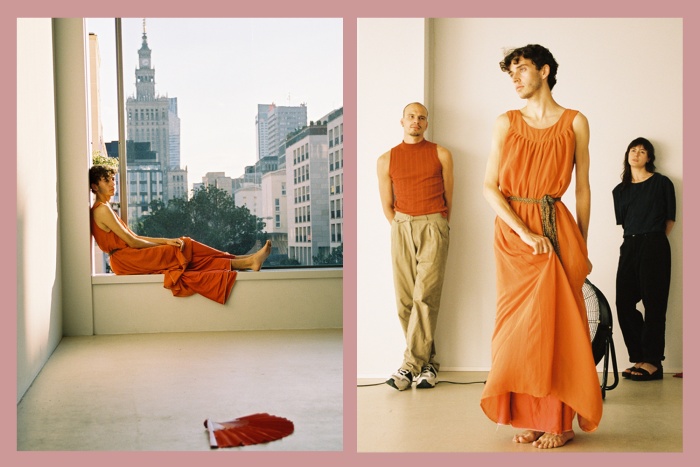 Alex Baczynski-Jenkins, Nim zakwitnie tysiąc róż (z Warszawą w tle), 2018. Performance documentation, Foksal Gallery Foundation, Warsaw. Courtesy: the artist and Foksal Gallery Foundation. Photograph: Spyros Rennt.
Baczynski-Jenkins choreography expresses a very deep love for the body, but it importantly also always returns to the body's ability to create modes of relation. Akin to Delany's account, Baczynski-Jenkins' cruising is full of ritual, procedure, structure, care. Rather than purely creating a situation of enactment, which Delany warns about, the performers are clearly entangled by their own relationships, which if they didn't hold previously, are facilitated in great part by the process of making this work – by its asking for proximity, intimacy, and eroticism. This does not, however, rule out representation altogether, nor does the work pretend to do so either. Baczynski-Jenkins conceives and presents his choreography with both men and women, creating an intention for cruising as an intrinsically queer practice, one that, in its potentiality, sits aside gender and orientation binaries, and that at its very core goes beyond sex to include modes of being and doing that sit outside normative forms of fulfillment and pleasure. Until a thousand roses bloom is therefore not altogether just about desire, but of desire's ability to bring people together, of creating spiritual, bodily, and social bonds, whether temporary or fleeting in nature, or as models for the making of long-lasting communities, friendship, and love – queer desire as a practice of expecting more, asking more, giving more. Baczynski-Jenkins' titular parenthetical, "with Warsaw in the background," appears to further manifest his intentions, rooting them in the context of their invocation. Pulling inside out from the holes, Baczynski-Jenkins reminds us of the radical potential of queer hospitality – creating a subversive vision of utopia, a microcosm of life in the city, the artist facilitates an encounter with a future that is as much of the there and then, as of the here and now.
BIO
Eliel Jones is a writer and curator based in London, UK. His research interests and methodologies stem from intersectional approaches to queer and feminist discourse. His writing and projects have a particular focus on performance and performativity in relation to strangeness, the use of the anecdotal in knowledge production and strategies of care as modes of resistance. He was the 2016–18 Curatorial Assistant: Commissions at Chisenhale Gallery, London, where he has assisted in realizing exhibitions of new work by artists including Alex Baczynski-Jenkins, Luke Willis Thompson, Hannah Black, and Lydia Ourahmane and Paul Maheke. Recent curatorial projects also include do you host?, U-jazdowski Castle CCA, Warsaw; besides, in tangent, Chisenhale Gallery/Genesis, London; Acts of Translation, MMAG Foundation, Jordan; and Experiments on Public Space, Dallas Museum of Art, Texas. He has previously worked at the Dallas Museum of Art, the 9th Berlin Biennale for Contemporary Art (with Ei Arakawa) and Frith Street Gallery, London, among others. His writing has appeared in various artists' catalogs and publications, including Photoworks, Brighton, the New Museum, New York, South London Gallery, London and 13th Baltic Triennial, as well as in Artforum, Frieze, The Guardian, Flash Art, Mousse, Spike Art Quarterly, and MAP Magazine. A graduate in Contemporary Art Theory (MA) from the University of Edinburgh, Scotland, he was a Graduate Scholar Award recipient from Common Ground Publishing at the University of California, Los Angeles; one of the internationally selected participants for the 5th Curatorial Summer School organized by V-A-C Foundation in Moscow, Russia; and a curatorial residency awardee at U-jazdowski Castle CCA, Warsaw. He is currently working on projects with artists Alex Baczynski-Jenkins and Luke Willis Thompson.
---
*Cover photo: Alex Baczynski-Jenkins, Until a thousand roses bloom (with Warsaw in the background), 2018. Performance documentation, Foksal Gallery Foundation, Warsaw. Courtesy: the artist and Foksal Gallery Foundation. Photograph: Spyros Rennt.
* Beyond the act of tearing, I like to think of "ripping" as grabbing, seizing, with the additional implied sense of doing so with the kind of passion, love, and urgency that should be attached to any experience of sexual pain and pleasure. "To rip" also implies a process of extraction, where an original storing device (the container of various types of data) becomes the feeding source for other multiple "hosting" devices (the receivers of the data). The practice of ripping in this sense is usually associated with illegal, underground activity – ripping to share with others, ripping for the making of a commons, ripping as a fight against the capitalist values of commodity and ownership.
[1] For more on Jose Estaban Muñoz's Cruising Utopia: The Then and There of Queer Futurity (2009), please visit the book's Jstor record here.
[2] Cruising the 1970s: Unearthing Pre-HIV/AIDS Queer Sexual Cultures (CRUSEV).
[3] A recent example of Karol Radziszewski's recent work with Queer Archives Institute and the work of Ryszard Kisiel is the exhibition RYSZARD KISIEL: CRUISING, presented at Gdańsk City Gallery, 15th June – 15th July 2018. Curated by Karol Radziszewski and Wojciech Szymański.The exhibition was organised within Cruising the 1970s: Unearthing Pre-HIV/AIDS Queer Sexual Cultures (CRUSEV). To find out more, visit Gdańsk City Gallery's website here.
[4] Alex Baczynski-Jenkins' Choreography Describes Desire as Pursuit, Not Capture: An exhibition of performances at Foksal Gallery Foundation, Warsaw, unfolds the rituals of sexual encounters, [Profile] by Eliel Jones, frieze.