How are artists expressing solidarity with asylum seekers? In this interview artist and coreographer Riikka Theresa Innanen talks about her experiences as a supporter of the refugee-led movement Right to Live in Helsinki. Her engagement departs from the ethics of solidarity activism which is different from humanitarian aid. Solidarity activists do not provide services or help. They do not speak in the name of refugees, but act together with them, supporting the political aims of asylum seekers and responding to the practical needs of a specific situation.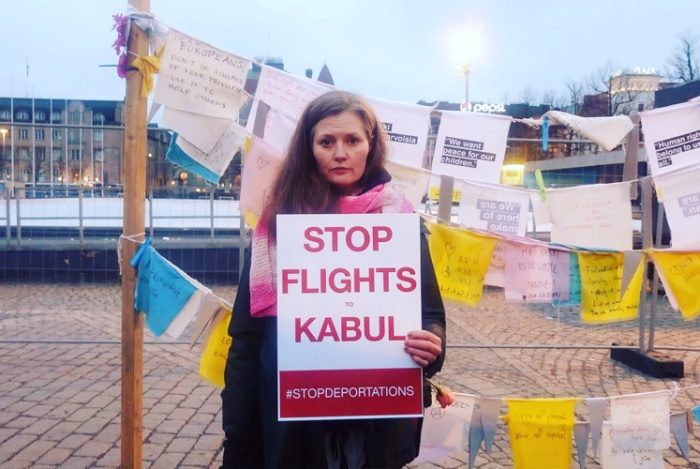 Riikka Theresa Innanen, "Gdy fińskie media donosiły o uchodźcach w 2017 roku zawsze używali naszych flag i symboli". Zdjęcie: Julia Autio.
Airi Triisberg: How did you get involved with the Right to Live demonstration?
Riikka Theresa Innanen: I passed by on the first day. The demonstrators had needs like sleeping bags, hats, and gloves. I had a sleeping bag and some extra gloves, so I went there. Then they asked for something else and I went back the next day. I didn't know anybody there. I just went there and checked out what the asylum seekers were doing and what they needed. Over time people got to know me. They were calling out to me "Hey, sister!" and bringing me tea and came over to talk. It was really like a gateway theory… so slowly I started to help more. Because I am poor, I couldn't chip in with money, but I had time.
When did the demonstration start and what was its context and aim?
It started on the 10th of February 2017 when Iraqi asylum seekers decided to start demonstrating. They wanted to demonstrate for three days in front of the Kiasma art museum. The demonstration was about three issues. The main issue is that the asylum process is faulty – a lot of people who need international protection, are not getting it in Finland, they are getting negative decisions and are being sent possibly to their deaths. That was a very burning issue because in the autumn and winter of 2017 asylum seekers started being turned away in large numbers. In addition to that, the needs of two types of people were addressed: the ones who are forcefully deported and the ones who become paperless.
In the beginning it was supposed to be a 3-day demonstration, from Friday evening to Sunday. Over the weekend Afghani asylum seekers started joining. So, they decided to continue for a week. After a week, they were evicted from in front of Kiasma. The demonstration then moved to the square next to the railway station where the sit-in lasted for 140 days. In July, the demonstration was evicted from the railway station, the government using the Pride festival as a reason to dismantle the demonstration. This pinkwashing was very controversial because the Pride festival was positioning itself as an ally of the demo. After the eviction from the railway square the demonstration moved back to Kiasma, and in September to the Three Smiths Square where it ended.
When the demonstration started, the idea of the asylum seekers was to have tents to represent the reality that will hit Finland if there are more paperless people. Refugees will start living in tents because they won't have homes. There was already that element of working with aesthetics in the idea of the tent installation. But when the asylum seekers were moved away from Kiasma after the first week, they also realized that they were a group of Arab or Afghan men and the demonstration was looking quite shabby, maybe even scary. Finnish people had quite a high threshold to overcome in order to come visit and talk. But the asylum seekers really wanted to be there also for local people to get to know them and talk to them. For many asylum seekers, it was the first time to get to know Finnish people and for a lot Finnish people, throughout the demonstration, it was the first time that they had talked to asylum seekers.
When they asked if somebody could make the demonstration look nicer, I realized that I have the tools for it. I have made installations. I work with choreography and often considered how people move through space and how to create spaces where people can come and meet.
The installation worked very well, because it moves in the wind and it's very soft. At the railway station people would go to work every day and they would just take a look at the messages and then they would start writing messages as well.
What did you propose?
I had the material to do a Tree of Happiness installation which I had done before. For that you need pieces of paper and clothes-pegs. People would write messages and it becomes an installation with pieces of paper moving in the wind. There is a lot of good energy around it. It's very intimate and small and its powerful in a very soft way. But because of the weather it didn't last, within two days all the messages would be gone due to the wind, rain, and snow. So, we started to make cloth versions and sew them on a line. Then people could write messages on the cloth with marker pens. We have really old messages now that have been there for the whole demonstration. It's really nice to have an accumulation of the history of these encounters. Those flags are a very beautiful archive of memory, like a cultural heritage.
Those lines of flags became like a fence around the demonstration. But we really didn't want to create a wall between inside and outside, we wanted to invite people in. The installation worked very well, because it moves in the wind and it's very soft. At the railway station people would go to work every day and they would just take a look at the messages and then they would start writing messages as well. So, it was like a gateway. Some passersby would then also enter the demo space and after a while maybe even talk to the people inside.
Why did you need a fence?
Because of the racist Suomi Ensin camp. They had a tent on the other side of the railway station square and there was regular, constant, scheduled abuse coming from them. They would come at least three times a day. The police and the city had told us that we can only call the police when they enter the territory of the demonstration. So, we had to define the area of the demonstration, but we didn't want to create a fence. The installation became a soft membrane between the demonstration area and the city.
We would never approach the Suomi Ensin camp. They always came to us, in order to start arguments. They were also filming us. And on many occasions they would get abusive. By the end of June, they had some 70 police cases about harassment and the police stopped them. Our demonstration had no such cases.
Instead of "Afghanistan is not safe" they would have "Afghanistan is safe" or instead of "Stop deportations" they would say "Start deportations." The only thing they did not change was "WTF Migri, police, and government …"
The flag installation is an example of how an artwork can function as a demarcation of the territory and at the same time also as a communication tool. Do you have other examples when you were able to use your skills as an artist?
There were also signs. The texts on the signs are collectively generated. I developed the visuals. The signs were more action tools: when you needed to demonstrate against a deportation at the airport, then you would take the sign and go there. Wherever the Right To Live demonstration goes, these are their emblems still.
Both the signs and flags became a metaphor. In 2017, whenever there would be article or news report about asylum seekers, the media would use the flags or signs to visually tell the story.
However, the flags and signs belong to the Right to Live movement and not to me. Many asylum seekers are not even aware that I designed them or don't consider it to be important.
What about hijacking these visuals by Migri and Suomi Ensin?
Yes, both. Our signs were white signs with red text, so Suomi Ensin made white signs with blue text, along the lines of the Finnish flag. And they changed the wording to the opposite. Instead of "Afghanistan is not safe" they would have "Afghanistan is safe" or instead of "Stop deportations" they would say "Start deportations." The only thing they did not change was "WTF Migri, police, and government …"

The other attempted hijacking took place during the World Village Festival in May where the Migration office and the Ministry of Interior Affairs had their own information tents. Inside the tent they had a line with pieces of paper and clothes-pegs where you could write what made you feel safe. When I went inside the tent, I was just shocked. Of course, these flags are not an original idea: they look like Yoko Ono's Wish Tree or the old Jewish tradition or the Tibetan prayer flags. But the fact that this particular form was adopted during the time when asylum seekers were demonstrating and the flags being their signature visual code… On one hand it made me very angry, and on the other hand I realized that we had touched on something – something really strong. We were fighting a political struggle through the visuals.
BIO
Riikka Theresa Innanen is a Finnish artist working as a choreographer, dancer, and visual artist.
Her work has been exhibited in North America, Europe, and West Africa in addition to Finland. She was the featured choreographer of the Tanssin Virtaa dance festival in 2014 and has received several grants, including the artist bursary from Svenska Kulturfonden in 2011–12; and has received paid residences such as one year in the Daghdha Dance Company in Ireland. In May 2016, a documentary film featuring her was broadcast on YLE (Finnish Public Broadcast Company) directed by Barbro Björkfelt. Currently, she is focusing on collective processes and social activism refugees.
Since graduating in 1997 from the School for New Dance Development (SNDO), part of the Theater faculty of the Amsterdam School of the Arts in Netherlands, she has also curated events such as the Side Step festival and taught dance, composition, and camera work, most extensively in Amsterdam School of the Arts 1997–2004.
http://www.riikkainnanen.com/wp/
Airi Triisberg is an independent curator, writer and educator based in Tallinn. She is interested in the overlapping fields between political activism and contemporary art practices, issues related to gender and sexualities, illness/health and dis/abilities, self-organisation and collective care practices, struggles against precarious working conditions in the art field and beyond. Her practice as a politicised art worker is often located at the intersection of political education, self-organisation, and knowledge production. One of her ongoing research interests is focused on historical and contemporary moments when the experiences of living with illness or disability have been politicized in order to express social critique. In 2015 she curated Get Well Soon!, an exhibition presenting artistic re-articulations of social imaginaries rooted in the radical movements of the 1970s. Another strand in her practice has been focused on precarious labour and art workers organising. In 2010–2012 she was an active member in the art workers movement in Tallinn. In 2015 she co-published the book Art Workers – Material Conditions and Labour Struggles in Contemporary Art Practice together with Minna Henriksson and Erik Krikortz. Currently she is engaged with anti-racist organising work.
---
*Cover photo: Riikka Theresa Innanen, "When the Finnish media reported on asylum seekers in 2017, they would always use our flags or signs." Photo: Julia Autio.